CHANCE NALUBEGA – Music that transcends generations #Bayimba2017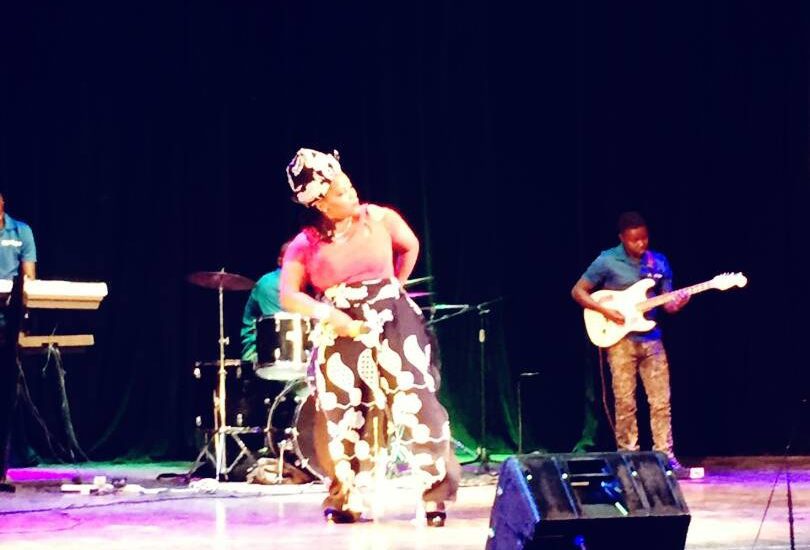 When Chance showed up on that stage with a large sequin-embellished head wrap, I knew it was about to be, in contemporary speak, lit; but not even that beautiful crown had me ready for the performance of my entire year. So you're wondering whether we're on first name basis now- the answer is YES. There need not be any more connecting to confirm that. Not after I squeezed my knees between that National Theater auditorium legroom and got down to Abateesi.
On a cold Saturday evening, the 3rd day of this year's Bayimba International Festival of the Arts, my friends and I took our seats waiting for the woman whose music rocked the Uganda airwaves in our childhoods. At about 9:10 pm, she walked onto the stage. She wore a pair of black trousers and a sequined skirt with slits over them to match her glorious head gear. Her red top was cut out on the shoulders in rectangles. Her biggest accessory, the deep dimples sank into her face cheeks before she motioned the band to begin.
Abakyakala mukyakale, kubang'obulabu bwakiseera! She crooned, her vocals still intact from how I remembered them more from 99. There were no "Kampala, are you ready?-s" or "How are you feeling tonight?-s." When Chance Nalubega got on stage, she stroke while the iron was hot. The crowd that was already anticipating her performance connected with her; and there was no turning back. "Ab'enyweera mbawagira" and we all raised our barley filled disposable cups.
Before she performed the next song, she spoke a word similar to one of those languages which our friends in the make shift-turned mansions churches spoke. Then taught the crowd a response which they shouted back in unison. Her dances could give Queen Sheba a run for her money. A few leg moves here, waist moves there and touchy feely ones that excited Isaac Kudzu enough to get on stage and dance too.
Whenever we were sure she was done and were satisfied that our money's worth was spent, Chance chimed: kati awo ng'ambongera! Meaning, she was about to give us more. She then plunged her vocals of the next tune into the depths of our hearts. I looked to my right and Liz, Benji, Samwiri and Ed were all on their feet- so were their neighbors…and their neighbors' neighbors. By the time she had gone through her hits; Abenugu, Yiga Okwagala and I Will Love You, it didn't matter whether Chameleon was going to perform or not. Chance had closed the Saturday show.
Forget Chance The Rapper, Chance Nalubega is an unstoppable legend who after a decade still held her own in a room full of millennials, with some who missed seats horded between the doors.