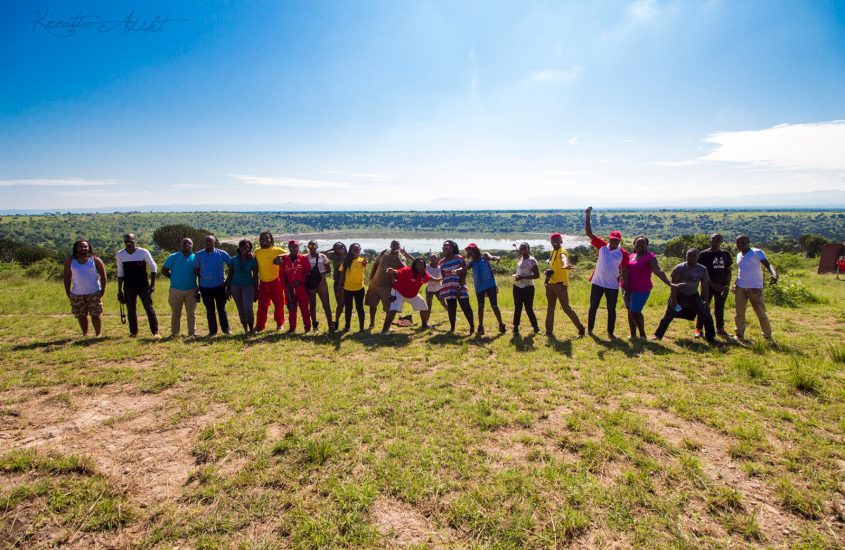 A Luganda story telling phrase, "Koi Koi" whose loose translation to English is Once Upon a Time was one year ago modified to birth the idea of Koi Koi Ug. The purpose was to contribute to a shift of the world perception of Uganda whose history now bore a mark of the Kony rebel group atrocities, one of the worst dictators of all time Iddi Amin and a known intolerance to the LGBTI community. This idea has since come to life in a now Instagram and Facebook popular hashtag adventure; but where did it all start?
David Ogutu, the Team Leader, had a coffee shop discussion with his friends about the possibility of celebration of the Ugandan culture through taking pictures which would then be documented on the most popular to-date, mobile photo and recently video sharing, social networking online application; Instagram.
A 10-week campaign was soon created under Kafunda Kreatives (a fellowship of creatives) – each week would have a theme on delicacies, fashion, languages, places, night life, crafts, and the Ugandan online community was prompted to share on theme from their different traditions. Now, Uganda is an amalgamation of over 55 ethnicities and as you might imagine, a lot to share was shared. Yet something still felt amiss- enough for the drawing table to be returned to. "We decided to give people a real experience and with it a sense of belonging and responsibility to tell their own story, conversion over FOMO," David says.
Koi Koi Adventures: any life experience that involves movement from one's comfort of accustomed surrounding to another place is bound to present challenges, discoveries, new relations and most importantly, a story. With the recent rise of young creatives looking to make a contribution to the world, their unconventional way, putting together a group for this was no uphill task. So soon enough; photographers, writers and social media enthusiasts packed their bags and got ready to traverse the country. They visited sites and communities documenting the story behind each site and the lives of different people; all on the Internet. Instagram timelines flooded with pictures from every visit.
From the inaugural artistic procession through the city, "Kampala Insta Walk" to an adventure to the East of Uganda's colonial town, Jinja; they combed the South Western part of Uganda in the unforgettable Koi Koi West and told the story of Fort Portal, home of Uganda's youngest king and custodian of the legend of Mabere ga Nyinamwiru. They have since traversed the hills of Kapchorwa; braved abseiling down the Sipi and trekked the same hills that Ugandan Olympic Gold Medalist, Stephen Kiprotich is said to have ran before his National Hero glory.
The Murchison Falls National Park trip led a group of travelers to the civil war ridden cum fast growing town of Gulu and the Kalangala Islands' unique co-existence of both a deep spiritual culture and contemporary religion was recently explored.
Now as Kafunda Kreative announces a Part 2 series of "Koi Koi West" happening this November, #KoiKoiUg promises to become a social media sensation as far as local tourism and story telling is concerned. With huge corporate partners like Shell and Airtel Uganda continuing to back this cause with two of what might probably the most essential requirements for the venture: fuel and an internet connection, things are looking up for this initiative which aims to empower people to tell their own story by creating opportunity for them to experience Uganda. Happy Birthday, #KoiKoiUg!
This post contains the photography of these @KreativAdikt, @nimusiima, @szion256 and yours truly.